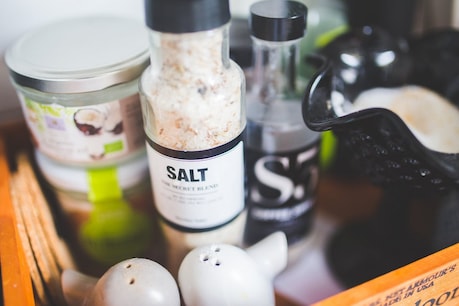 Excess salt in the body can lead to many fatal diseases. Image Credit: Pexels / Kaboompics .com
According to WHO, most people in the world consume an average of 9 to 12 grams of salt every day, but if you reduce salt consumption, 2.5 million deaths could be prevented globally.
How Much Salt Should We Eat:
Salt is an indispensable part of our diet, but if we start to include it in large quantities, then salt can also be harmful to our health. To that end, the World Health Organization (WHO) issued new guidelines. People are advised to only consume 5 grams of salt a day. The organization says that people around the world generally use twice as much salt in their daily diet, which has caused the death of several million people.
WHO
According to the data, most people in the world consume an average of 9 to 12 grams of salt every day, but if salt consumption is reduced to a disciplined level, 2.5 million deaths globally can be prevented.
Also read: Why doesn't someone drink water standing up? Know why
A balance of sodium and potassium is required
The World Health Organization has developed worldwide sodium levels
The global sodium benchmark for sodium levels in food
Where, in order to save people's lives, more than 60 food categories have set a new standard on sodium. It is believed that by 2025, this benchmark will reduce worldwide salt consumption by up to 30 percent. Health experts believe that the balance of sodium and potassium is very important in our body. If more sodium is consumed with less potassium in the body it can harm any human health. Not only that, if there is a lot of salt in the diet, it increases the risk of blood pressure, heart disease and stroke. Not only that, the bones also become weak because of this.
Which product intake increases the amount of salt in the body rapidly
We all know that salt intake is necessary to make plasma healthy and keep nerves healthy. However, there are some preparations whose intake can increase the amount of salt in the body quickly. Apart from food categories such as processed foods, packaged foods, dairy products and meat, there is also a lot of salt in spices, namkeen. Also read:
Fact Check: Corona avoidance due to consumption of alum is not just a false claim, it has no scientific basis
Advantages and disadvantages of salt
Salt is very important to keep our body active. It keeps the body hydrated and also helps the thyroid function properly. This normalizes low BP and also improves symptoms of cystic fibrosis. Speaking of losing them, their high intake increases the chances of heart disease as well as the chances of stroke, high blood pressure and kidney disease. Can improve rapidly. (Disclaimer: The information and information provided in this article is based on general information. Onesumore does not confirm this. Please contact the relevant experts before applying.)
.