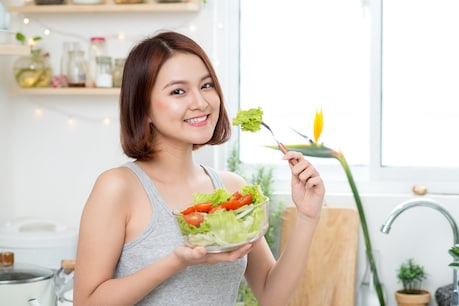 We have become some of the habits in our morning routine, which causes our weight to be directly affected. Image-shutterstock.com
Weight Loss Tips: Due to some bad habits in the morning, we are unable to lose weight even after all the restrictions.
Weight Loss Tips:
Losing Weight is a very difficult task for anyone. Many times we think that everything is going well and will lose weight in a few days, but after a few days when we take our weight, it shows that everything has increased rather than weight loss even after the examination. In fact, the reason is incorrect information or outdated advice. Experts believe that usually we have become some kind of habit in our Morning Habits routine that causes our weight to be directly affected. Due to this habit, we were unable to lose weight even after all the restrictions. So let's find out what habits we change in the morning so that we can lose weight quickly.
1. Do not drink water in the morning
Many people wake up in the morning and start work in the morning and start the day with tea or coffee. When you wake up in the morning, you should get used to drinking water first. If we don't drink water on an empty stomach in the morning, the body will become dehydrated, which directly affects our digestive process and can lead to rapid weight gain. Also read:
Is your immunity weak? Check it like this
2. Drink Sugar Free Juices
Usually, people use packaged juice as a substitute for fresh juice at breakfast at home. Let us know that the amount of fat and sugar in this bottled juice is very high. Not only that, there are lots of calories in it which we cannot burn easily and obesity is starting to arrive. 3. Don't refuse Everyone is in a hurry in the morning. People have breakfast while running. Often times people leave the house without breakfast, which directly affects their metabolism and slows down the process, which can lead to weight gain. 4. Fried and unhealthy foods at breakfast In many homes, people like to eat pizza, burgers, parathas, etc. For breakfast. This is in any case unhealthy, high calorie and high fat foods whereas eating healthy in the morning is considered better. Tell us that if you also eat such foods in your morning diet, then it is the cause of your obesity. If you don't change this habit, then you can't lose weight even though you want to. Also read: Keeping children close to nature even during the Corona period, brain development will be fun 5. Not Exercising If you don't start your day with walking, exercise, or yoga, it won't be easy for you to lose weight. If you want to stay home, stay active in the morning as far as possible. (Disclaimer: The information and information provided in this article is based on general information. Onesumore does not confirm this. Please contact the relevant experts before applying.)
.