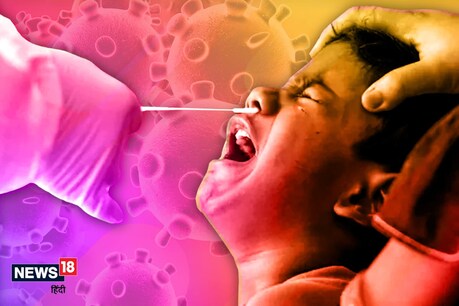 The fifth report of the Sevo Survey appeared in Delhi
Delhi News: The fifth sero survey was conducted in Delhi in January and the sample size was over 28,000. The fourth sero survey was conducted in October last year and the sample size was 15162. Find out what was reported in the two sero surveys.

Love The surprising revelations have come to light in a sero survey conducted in Delhi and in the country. According to this survey, more than 60% of children in the capital Delhi could be infected with the coronavirus. In fact, after the third Siro survey, antibodies were found in children in a higher percentage than the adult population in the capital. This means they have been infected even though the majority of cases are very minor and serious infections are rarely seen. Know what the results of the fifth survey sero were In January, a sample from the fifth round of the sero survey was taken inside Delhi, which had a sample size of over 28,000. In it, antibodies i.e. infection are found in more than 56% of the people of Delhi's total population. In this context, before the start of the second wave in the country, more than 60% of children in Delhi had been infected. Even though based on age, the fifth survey report has not been published in Maulana Azad Medical College.What the fourth report of the sero survey said The survey was conducted in all Delhi wards between 15 and 21 October last year. A total of 15162 samples were taken and from 15015 these samples were examined. According to him, at that time 29.1% of Delhi's population was infected, but the percentage of children was 34.7%, much higher than adults, living in the 5 to 17 year age group. Find out what Dr. BL Sherwal regarding sero survey before the third wave
BL Sherwal, director of Chacha Nehru Children's Hospital, said that currently the lockdown has not been implemented across the country including the capital Delhi. Until a large amount of positivity is revealed. In situations like this, a large number of children are also infected through young parents going to work. Most of the children in the capital Delhi remain asymptomatic, although in some cases children have also been hospitalized and we are aware that because of Corona in Delhi, children have also died in this wave. The main reason behind infection in children is because vaccination in children has not been started. Social distancing is not maintained with children in the family, so if there is transmission to anyone in the family, because children live with everyone, children become infected. We appreciate Arvind Kejriwal's step. If there are such mutations in any country that can affect children, then we should avoid them as much as possible. The Delhi government is making a number of efforts given the possible third wave of children, where training of child specialists and medical staff, purchasing of bypipes, ventilators for children and essential facilities. As a virologist, I think we should do a genome study and create a pediatric vaccine against specific mutations that infect and affect large numbers of children. In addition, in a sero survey across India conducted in February, it was also stated that only 21.5% of the country's total population were found to be infected. Even then, more than a quarter, i.e. 25% of children infected across India, more than the general adult population, the sample size of this survey is greater than 35700. Learn what Dr. Ajay Gambhir on sero survey Former member of the Delhi Medical Council, Dr. Ajay Gambhir said that the corona virus continues to change its shape and will continue to change in such a way that we must replace vaccines on the same basis, both for children and for the elderly. Only then can we save people's lives and effectively curb the infection. What is special is that even before the arrival of the second wave of the country in Delhi and the fourth wave of Delhi, antibodies were found in about 60% of the population and that was when vaccination was not started. That is, it is a natural antibody after infection. Despite this, a large number of cases have occurred in Delhi and deaths have occurred, even if there are high numbers of antibody infections among Delhi's children, however, in the third batch, these children may be in serious trouble. .
.