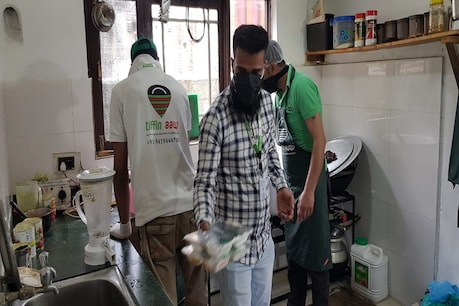 Tiffin Aaw receives more than 100 delivery orders every day from various hospitals and families.
The Young Couple from Srinagar (Srinagar) has started the 'Food for Kashmir' campaign to help people in need amid the coronavirus crisis.
This second wave of the Corona epidemic has disturbed the community. Every day many lakhs get trapped in it. People were asked to stay indoors. Also, basically being asked to apply a three-layer mask (washing hands with soap or washing hands repeatedly) and adopting social distancing. Meanwhile, many people came to help people infected with Kovid. In this episode, the young couple Srinagar has started the 'Food for Kashmir' campaign to help needy people amidst the coronavirus crisis. The couple provides home-cooked meals to families infected with Covid-19, doctors and people in the paramedic area. Rais Ahmed Dar and his wife Nida Rahman launched Tiffin Aaw's free home delivery service during last year's Corona epidemic. In the second wave of the Corona outbreak, the couple and their employees had received proper training in dealing with the Corona virus from the authorities. The couples are now transporting food to the many Covid-infected patients and doctors at the Srinagar hospital. Dar told News18- 'We got a call from a family where all the members have been infected with Kovid and they can't cook by themselves. Her own voice showed how upset she was during this crisis. He said- 'Kovid patients, doctors and paramedics miss the food we give them at their doorsteps.' Also read: Mix these special things with black pepper, stay away from illnesses after eating Since the second wave of the Corona outbreak, Tiffin Aaw has received more than 100 delivery orders every day from various hospitals and families. The cooking team ensures that the food is completely hygienic and without preservatives. Today, many of these people are ready to provide all the necessary assistance to deliver food to families suffering from Covid. At the same time, Nida Rahman said that he started this campaign with the aim of helping the community during the corona outbreak. They say they don't take payment for this, but if someone pays, they don't refuse it. Rahman said- 'This campaign desperately needs full public support. We want more and more people to help provide food for Covid-19 patients.Also read: Drinking spinach juice in the summer, you will get rid of obesity A paramedic who orders the couple's meals every day is very pleased with his service. She said- 'It's hard for us to get homemade healthy food in the hospital during errands, so she ordered it from Tiffin aaw. Their service is fast and reliable. During this outbreak, both Rais and Nida hoped to provide their food to as many people as possible. He wants to help more people in this crisis. Currently, this service is only available in Srinagar, but the couple hopes to expand it to other districts as well.
.